Happy Christmas and a prosperous 2020!
Read / lees in :
Nederlands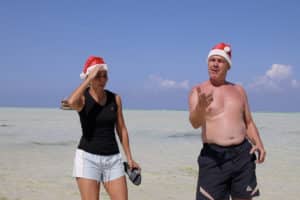 Admit it. You've been looking forward to this for days now. And of course it's a much needed distraction from your in-laws to whom you have te be nice all day: the annual Christmas video by Ed Far From His Bed.
Actually I should've stopped last year, because even I can't top a wanking monkey and a skydive. Nevertheless this video is another milestone, because it's the last one (I think). Mostly because our trip has come to an end. Soon I will tell about the last adventures here on this site, just so you know how it all ended. But at least now you know you have to start looking for a new hobby.
But we wish everybody, once again, a happy Christmas and a prosperous new year from the bottoms of our hearts nonetheless.