Read / lees in :
Nederlands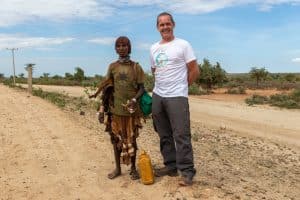 The people of our hotel in Turmi had been so kind to provide us with a room, food and drinks booze although we didn't have a penny birr on us. So the next day it was imperative to look for a bank and sim cards for our phones, so we'd also be connected to the rest of the world again. While our friends who were without sim card as well – but did have some cash – were busy getting into a fight on the weekly market, we drove to a village about twenty five kilometers away to change dollars at the only bank in the region and to buy sim cards. Once we were back in Turmi we went to the market as well. De people of the Hamar tribe flock there once a week to sell their products and for some serious drinking. Because of that they've become the main tourist attraction in the region.
Let's go to the market, it'll be fun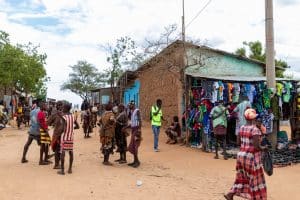 But we too were in the middle of a quarrel in no time at all with some men that think they have the right to demand money from white tourists for visiting the market and taking pictures. Where we on the other hand argued that it would be fair to pay directly to the Hamar people for a picture or to buy something from them. The atmosphere became a bit too aggressive and there were more people walking around with AK47's than I could handle. After all I was carrying my camera and subsequently only had one hand free. So we left as quickly as possible. Back in the hotel the guys said goodbye to us, they were leaving for Jinka where we'd be going the next day. But after less than ten minutes Gerry stood in front of us panting. Their car had finally given up on them, as one would expect from a Landcruiser. They were stranded just a few hundred meters from the hotel, and he was panicking a bit because a crowd was gathering. I hurried over there to tow the car back to the hotel.
The Edmobile to the rescue
They told me they had filled up in Omorate and had probably been sold gasoline diluted with water. Not very smart to buy gas on the black market if you're still carrying four full jerrycans in your car. Given that there are no workshops in Turmi they asked me if I wanted to haul their tank to Jinka, about a hundred and thirty kilometers away. So the next day we left together for some serious weight pulling. We managed to get about halfway, but then we were stopped by the police. What we were doing was illegal, but they were willing to see it through their fingers provided we'd arrange a different mode of transport for their car. When the officer had left and it turned out that the Toyota didn't fit in the truck villagers had ordered I was asked again to tow the car. My refusal was not met with much sympathy. I decided to take one of the guys to the police station in the next town so he could try and find a solution there. We found out that the police had already had people on the lookout because they suspected that we would continue towing the car as we did before! Because I knew he barely had any cash on him I gave him a couple of hundred dollars in Ethiopian Birr after which we continued to Jinka. All the way wondering if they would've done the same for us given our experiences of the previous days….