Read / lees in :
Nederlands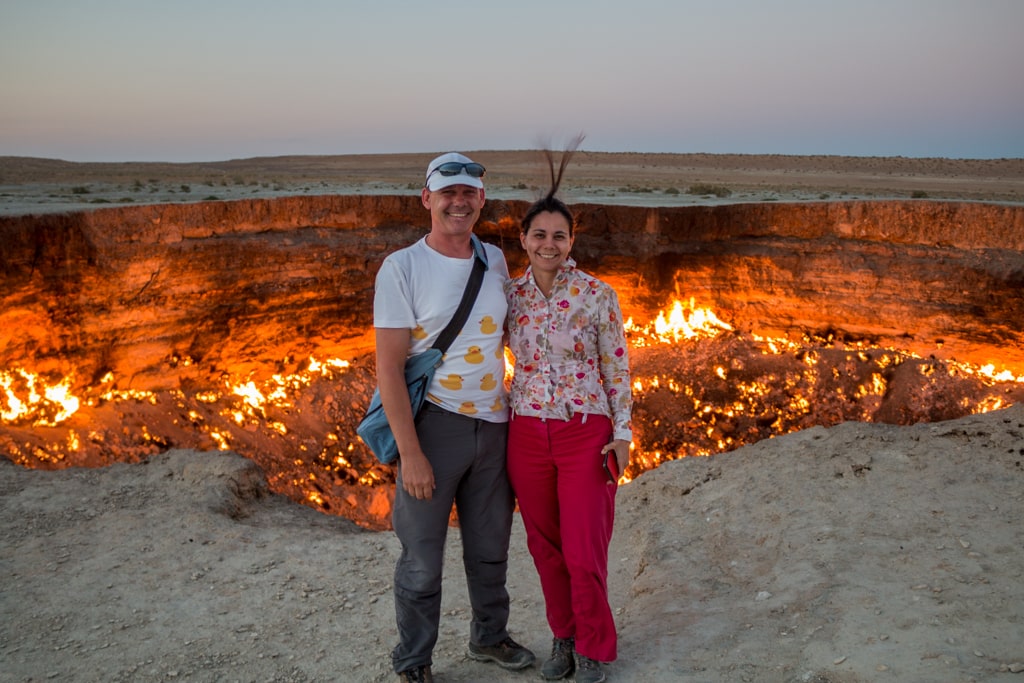 This year we traveled through various countries ruled by a presidictator. A category of countries in which North Korea forms its own categorie. But in the so called stans too a free European regularly scratches one's head. We saved the best for last, Turkmenistan, home of the gate to hell. Luckily enough we were able to secure a 5 day transit visa for this nation. Visas are denied on a regular basis and transit visas are even harder to come by, and nobody knows what the reasons for refusing a visa are. So for us it was quite tricky to opt for this route because we're traveling by car, and the only other route from Uzbekistan to Iran runs through hell Afghanistan. The third option would be for me to drive through Kazakhstan and take the ferry across the Caspian Sea to Azerbaijan, and for Lucía to fly there because for her it's not so easy to get into Kazakhstan. But fortunately it didn't come that.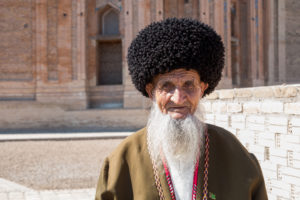 The beauty of a transitvisa besides the price is that you don't have to follow as many rules within the country. Contrary to a tourist visa you don't have to hire a chaperon guide and you're not obliged to sleep in a state run hotel every night nor do you need to get permits to travel through the various border regions of Turkmenistan. Nevertheless we got off to a really good start when we crossed the border. Because we only had five days, including the arrival and departure day, we got up in the middle of the night so we'd be the first ones at the border when it opened at 9am. Although there was only one other tourist (by foot), and there were at least twenty staff working there at the moment, it took us them no less than four hours to sort out our paperwork.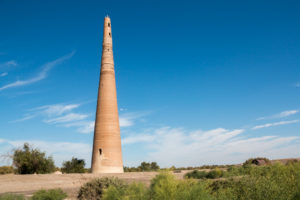 Part of the process was that you have to indicate the route you intent to follow, according to which they calculate how many kilometers that's going to be. Then they search in a table what the fuel consumption of your vehicle is so they can determine how much compensation you have to pay for the subsidy the Turkmen government gives on gas/diesel. Another affair that took quite a while to get sorted was my drone. Those are forbidden in Turkmenistan and therefore it had to be sealed with a lead seal, so I couldn't fly with it. And this meant another form had to be filled of course. But all this could only be done after I demonstrated the drone to the kids customs officials.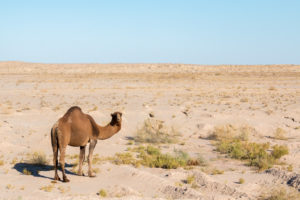 Once all this was behind us we were on our way, but we needed to change money and fill up the tank fast. Because I knew about the fuel compensation fee beforehand we drove across the border on the last diesel fumes. Having learned our lesson in Uzbekistan we headed straight to the black market to change dollars for manat. We got five manat per dollar, over 40% more than the official rate. On hindsight it wasn't very clever to change 300 dollars right away because all hotels in the country are owned by the presidictator government and foreigners can only pay for them with dollars (which in effect makes the room 60-80% more expensive than the Turkmen price). In the end we spent most of the money in the most expensive restaurants we could find.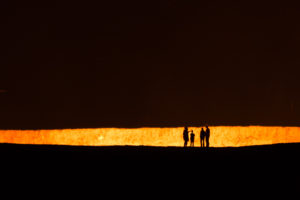 Also due to the fact that the first night we were unable to spend any money at all because we slept in our tent next to the famous Derweze gas crater, better known as the gate to hell, and cooked our own meal. Despite the delay at the border we just managed to get there during sunset. A totally demented sight, I was really disappointed that my drone was sealed so an aerial foto was out of the question. Although the president's word is law in Turkmenistan, and he ordered to close the door to hell in 2010, they still haven't done anything about it. Fortunately, because for me it was one of the main reasons to put up with all the trouble we had to go through to get into Turkmenistan. But in the end, the capital Ashgabat proved to be even crazier, although not as spectacular as the gate to hell……