In the footsteps of Genghis Khan
Read / lees in :
Nederlands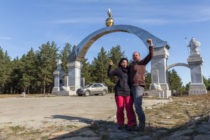 We started our expedition to the far east slow and easy. The first day we drove only on asphalt and we slept in a ger with a modern toilet and hot showers at twenty meters distance. The next day we increased the risk a bit by driving to Khökh Nuur, where Genghis Khan was crowned God one day. A place you can only reach, according to Lonely Planet, by muddy roads if you have a guide/driver with you. Once we arrived we could move into a ger resort again, only without the comfort of a toilet or shower this time. A day later we returned to the tarmac in order to continue to Chinggis City, where we found shelter in a three two star hotel with hot water, when the city's water heating plant was working. Because we had found Khökh Nuur without a problem we set course for Dadal, the birthplace of Dzjengis, overconfident. About 200 kilometers away, so around five hours by car. The first part till Norovin we had little problems as there was a five lane highway, but soon after the turnoff to Dadal we chose the wrong jeep track. We were aware of that pretty soon but I thought the best option was to just continue until we'd hit a track that would go in the right direction. Because it's full of jeep tracks everywhere so you just drive in the general direction your GPS is telling you and that way you, usually, arrive where you wanted to go by zigzagging your way through the vast landscape.
Rockin' all over the place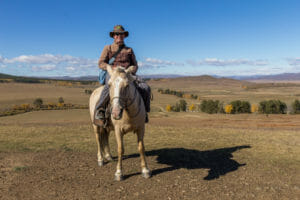 But first we came across a pool of mud of which we feared the car would get stuck in it. So we backed the vehicle about forty meters to catch another jeep track. It didn't go in the direction we needed to go, but what the hell. We're on holiday after all. This track went uphill pretty soon, and before we knew it we were in the middle of a forest on a mountain. When we then descended again we passed sections of which I was sure the car would not be able to pass in the opposite direction. Knowing that going back was no longer an option I started to get worried, especially when soon after we reached a river. We decided to follow the river hoping to find a bridge or shallow spot where we could cross it. While the jeep track looked more and more like it hadn't been used for ages as we continued a the H-frame of the car hit a big rock which stopped the car abruptly. While Lucía threw back our luggage to the back of the car I examined the car. Based on all my knowledge I declared the car suitable to continue. But because it was getting dark by now, and we had no idea how far we still had to go or what the track had in store for us, I decided it was better that we tried out our camping equipment for the first time. Fortunately that was all living up to our expectations. The next morning we therefor continued our journey rested and reached Dadal an hour and a half later. Where we'd stay, according to plan, a day or two to ride horses and then try to get lost again as we'd continue our off the beaten track tour to the north east.