Read / lees in :
Nederlands
Hi there,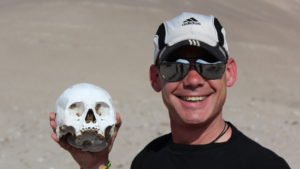 You have stumbled upon the weblog of Edwin Oonk's trip around the world. If you do not know me, don't worry. Just browse through the blog and galleries and you'll find many photos of me and you'll get to know me through the stories I wrote. I was born on June 4th 1970 and ever since I was a little boy I dreamed of visiting all those beautiful and mysterious places on earth that I saw in magazines and on television.
I had already made a variety of trips to far away countries before starting my big trip around the world in 2010. I started this blog to keep everybody up to speed about the trip of my dreams and so you can travel a bit with me without ever leaving your home.
I am making a trip that literally takes me to every place on earth that is even remotely interesting to visit. And thus also to the two missing world wonders on my list, the Taj Mahal and Machu Picchu (edit: I now have visited all 7 new wonders of the world).
When I started my trip I planned to be on the road for about two years (edit: I failed miserably because I'm already traveling for more than 3 4 5 6 7 8 years, and the end is still not in sight but it looks like I'll finish this year). I started in South and Central America where alone I wandered for two years. My goal is to meet as many fun and interesting people as possible, engage in fun activities, visit the most beautiful locations around the globe, learn Spanish and improve my golf handicap by at least twelve points!
Have fun with my stories, photos and videos.
Edwin
PS: don't forget to like my Facebook page so you won't miss out on any new content.