Read / lees in :
Nederlands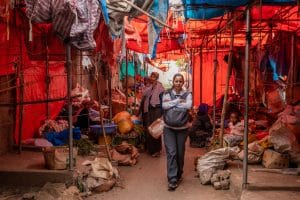 A few days after the failed coup attempt things went back to normal again in Addis Abeba. That was not the case with the internet however, although maybe it was. Because it was more often off than on during our stay in the country. We were getting a bit fed up with the country, even though it is very beautiful, because of the internet- and power cuts and the chaotic traffic. But before we were going back to Kenya we decided to swing by Harar. Lucía was set on visiting the UNESCO protected old city centre with its thousand year old city gates, of which the Lonely Planet spoke so highly. I had lost faith in the enthusiasm of the book quite a while ago, but I was curious about the man that feeds wild hyenas every day. The ride to Harar was long and unpleasant. Apart from the chaotic and often dangerous traffic there were countless checkpoints. Possibly because of the recent coup, but maybe just because Harar is situated close to the border with Somalia and Somaliland. Anyway, they're very time consuming.
The hyena man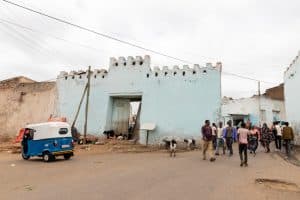 Therefore we didn't arrive until after dark, but fortunately we found a BBB hotel quickly. The next morning we explored the fantastic historic centre (dixit Lonely Planet) right away. Almost immediately a couple of qat chewing 'guides' came at us like hyenas. Politely we refused their services, after which they wanted the qat they gave me back. But a gift is a gift in my book, and I was quite keen on trying the stuff. After all I'd liked the opium too. The old city centre proved to be mostly that: old. So pretty soon we had seen enough and went back to our hotel to chew qat and have a beer. Just before dusk we drove to the spot where the hyena feeding would take place. After we'd arrived I couldn't believe we were at the right place. Set just outside the city walls, in between a couple of houses. But the hyena man that lived there showed me a video, wheeled a wheelbarrow filled with meat out of his courtyard and sat down.
Relieved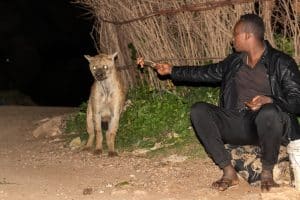 Not much later, all of a sudden, they were there. Three hyenas. It was hard to believe, but they were even afraid of us. Their hunger however was stronger than their fear, so they came closer to eat from the rotten meat. Meanwhile women and little children past by without a care in the world, causing the hyenas to run away in fear for a second. After about fifteen minutes we'd seen enough and returned to our hotel. We had a long drive to Kenya ahead, and the next day we'd start driving. A few days later we reached the border, and because we had crossed into the country with our car once before they didn't give us a hard time this time around. It's hard to put into words how relieved we were to be back and be able to rely on the availability of electricity, the internet and decent food after six wonderful but at times very difficult weeks in Ethiopia. It's true, you can only really appreciate what you have once it's not there.