Well prepared is half won
Read / lees in :
Nederlands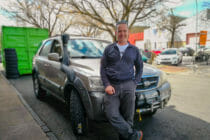 After my, for the time being, last visit to the Netherlands it was time to prepare myself for what very well may be the most exciting stage of my tour du monde. From Morocco to South-Africa. With a lot of detours hopefully probably, but by now you expect nothing less from me. Before I went to Brazil I left my car with a mechanic to have him install a snorkel, winch, new and longer springs, heavy duty shock absorbers and fresh ball bearings for my trip through Africa.
To get it past the various border checks I had ze Germans print a fresh Carnet de Passages for me. And on the Dutch eBay (markplaats.nl) I bought a satellite phone. So I could, in the unfortunate event that I get stuck in the middle of nowhere, say goodbye to my parents call for help. 'I only need to organise some new tires and nothing bad can happen to me', I thought to myself while I cruised from Lisbon to the south.
But while I toured through the Algarve and later Andalusia I started to have second thoughts. Did I really not forget anything? Had I thought about everything? I strolled around Malaga, visited the Alhambra in Granada, risked my life on 'El Camenito del Rey' and awed at the Mosque Cathedral in Córdoba. And all of a sudden it was clear to me what I had overlooked. What I can't do without. So without further ado I raced to Sevilla to catch a plane and fly to……..Colombia.