Read / lees in :
Nederlands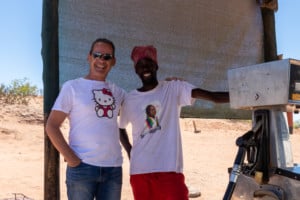 Once we got back to Namibia the new diesel injectors had fortunately arrived. And after I paid the import duties I was even allowed to take them with me. I had the faltering one replaced right away, after which we could set course for Twyfelfontein. The place didn't really appeal to me, but Lucía decides about those sort of things. After a long drive, with along the way a close-encounter with an alien life form indigenous tribe called the Himba, we decided to take it easy and stick around for a day or two. Every night when we were hanging around in the bar of our camping a hobo Bennie came by. Bennie proved to be a war veteran from Swakopmund who was in the neighbourhood to repair the tents of the holiday lodges. He invited us for a party that Sunday at the skydivers club in his hometown. Since we're not afraid of a good party we accepted his invitation and drove through the inhospitable landscape of Skeleton Bay to Swakopmund.
Boknaai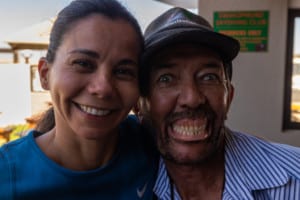 When we arrived at the club in the afternoon Bennie welcomed us like we were his long lost family. He had been bragging that his Dutch friends would swing by, so we saved his face by keeping our word. Anyway, we had a fantastic afternoon. Everything you'd need was there, a millenia-old band, a braai, nice people that spoke Dutch Afrikaans and free flowing beer. While they taught me words in Afrikaans, like 'boknaai', and I reciprocated by teaching them Spanish words like 'carechimba' (=poesiegesig in Afrikaans), someone I suggested, given the fact that we were at a skydivers club, that we might just as well jump out of a plane helicopter the next day. After all we loved it the last time we did that. At first it seemed we wouldn't be able to jump due to the weather conditions, which would've been really boknaai because that would've meant we were all worked up and nervous for nothing. Fortunately conditions improved and we got a video like before. Anything for the likes.
Big Daddy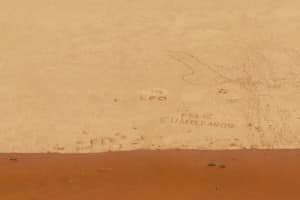 Unfortunately we can't party all the time. So we continued our way through the Namib desert, the oldest desert in the world, to Sossusvlei in order to climb Big Daddy. After quite a challenging climb, for normal mortals that is, we enjoyed the magnificent view over the red dunes. Sadly we couldn't stay very long because we had to, again as per Lucía's orders, go to Lüderitz. The road leading us there was stunning with breathtaking landscapes with loads of oryxes and zebras in it, but the city itself I found utterly boring. With the exception of nearby Kolmanskop. These days that's a very photogenic ghost town, but back in the day it was the richest town in Africa. Back then the krauts Germans picked up shitloads of diamonds there that were just lying around in the desert. With the excursion in this little city our tour through West-Namibia came to an end. All we had left was a long and boring drive back to Windhuk to pick up Lucía's visa from the Botswana embassy. That visa application took no less than two whole weeks. Which basically was the reason for us to roam around the country to kill time in the first place. And after all that time we even had to return the next day because those boknaaiers misspelled the date.