Read / lees in :
Nederlands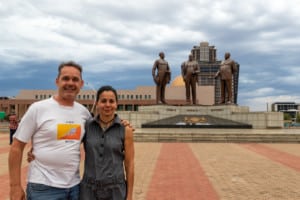 We decided that we'd had enough new adventures in Namibia, so we headed to Botswana to see if we could get ourselves into trouble over there. And I have to say, we did a pretty good job. I managed to screw up on the first day even. When I got out of the car to shoot a couple of pictures of a group of vultures, they literally scared themselves to death and flew away which caused one of them to commit harakiri by flying against a passing lorry. Subsequently I Lucía came up with the idea of going to the Kgalagadi Transfrontier Nationaal Park, in the south-west of the country, to camp between the lions in the middle of the desert during Christmas. A recipe for disaster if you ask me. It was quite hot the day we drove off, but we had enough to drink in the car because Christmas and because Lucía loves a glass of wine under a starry sky. At first Google sent us via the wrong sandy track but after driving around for an hour or so we found the one and only access road to the park.
Fesh fesh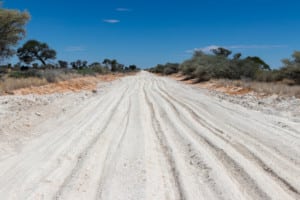 With about eighty kilometers to go, to the park entrance, the surface of the road suddenly changed into deep sand. Lucía gets a bit nervous in such a situation and suggested charily if it wouldn't be better to turn around. Of course I didn't think that was necessary. Furthermore it was her idea to go on this adventure in the first place, so she shouldn't be whining. With the fourwheeldrive engaged the car plowed through the deep sand. It's important under those conditions to maintain speed, so I kept the pedal to the metal. Although the engine was rev'ing like crazy we weren't going any faster than twenty to thirty kilometers per hour. Shortly after conditions got worse, when the deep sand turned into fesh fesh. Unfortunately the fun didn't last long. Outside it was around fifty degrees Celsius by then and inside temperature was rising fast as well. That was something we were familiar with. And yes indeed, once again we had an overheated engine. After using up almost all of our drinking water to refill the engine cooling system it made sense to me too to give up and go back. We would have to celebrate Christmas in Gaborone, the capital, that year.
New adventures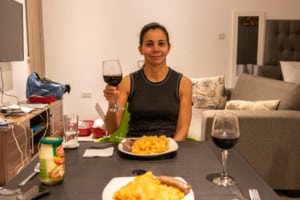 We stuck around for a week so we could also celebrate new years and Lucía's birthday there. She blows out her candles every year on new years day you should know. This year as a present she asked me to cook hutspot (Dutch traditional dish) with boerewors for her. She loves that stuff. Glad that she had asked for something cheap I cooked a big pan full on the last day of the year, so we'd have chow for at least two days. On her birthday I invited her for dinner in a fancy restaurant, just to be on the safe side. After we had swallowed our steaks I came up with an excuse to get something from the car. Because in Mauritania I had bought a decorated jar covered with genuine goat leather from a nomad. I had even filled the jar with original sahara sand! And because I like adventures, and because I thought that after eight years of roaming around the world I'd be ready for my biggest adventure yet, I also hid an engagement ring, that one of my American friends smuggled up his ass from Trumpistan to Senegal, in the sand. And what do you think? She fucking said 'YES! So ever since we are on our way to new adventures as fiancées 😬.