Read / lees in :
Nederlands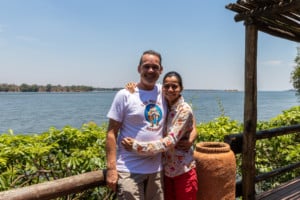 Given the fact that my car is equipped with an engine that has no less than four cilinders, I didn't see a problem with just one of them faltering. But above all I didn't want Mr. Botcher to mess with it again, which would prove to be a wise decision later on. On top of that I couldn't wait to try out my new camera and lens, that Lucía had carried along. So we drove from Lusaka to the Lower Zambezi National Park. Up to that moment I had barely seen any wild animals in Africa, so it was high time I saw some. Lucía had come exactly at the right time, because we hadn't even reached the camp we selected, or we were already chased by an angry elephant. 'Fortunately only one cilinder is faltering', I thought to myself while I watched Dumbo slowly getting smaller in the rearview mirror.
Breakfast with the lions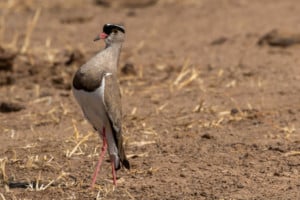 As city slickers we had to get used to the park. For instance, during the night hippos and baboons roamed the campsite which forced us to stay inside our little tent. While at the same time we were supposed to get out in the middle of the night to see the rest of the animals. We took our chances and sleepwalked to our car around four o'clock. At that hour the restaurant hadn't opened yet, so with a growling stomach we were looking through the windows at animals that were feasting away. That's something nobody can endure for a long time. But we were lucky, because we didn't see any lions around. This gave us the courage to stop somewhere in the middle of the park so I could quickly cook up some breakfast. Meanwhile Lucía stood ready to fight off any wildlife stupid enough to try and rob our baked beans. Excellent teamwork. Good for her, by the way, that my cooking is so bad that the lions showed zero interest. After three days my memory cards were full, so we drove back out of the park to Livingstone. There we had arranged to meet the Argentinians who were finally back on the road after helping out that poor German lady.
In the same boat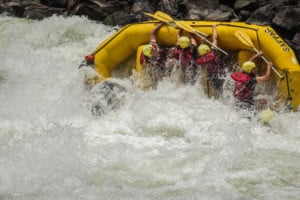 Driving along we soon got the sweats. The airconditioning wasn't able to cool sufficiently because the engine was overheating. Mr. Botcher had punctured the hose of the cooling system while he was 'working' on the car. Fortunately I always carry around heaps of water for this eventuality. By topping up the cooling system every couple of hours we were able to reach Livingstone the next evening and meet Facu and Carina. We all hit it off fantastically. We found out that Facu had been traveling for some five years, whereas Carina joined him about a year ago. While we told each other tall tales and the women described each other the dirty hotel rooms we had made them sleep in, we did all kinds of touristy things together. Like flying over the Victoria Falls in a chopper. To top it all off we went, without Lucía, rafting on the Zambezi river on our last day together. When the captain asked us in the morning which name we wanted our team/raft to go by, I blurted out 'Titanic'. Our team would suffer for that dearly! I've gone rafting quite a few times, but in total I've only fallen out of the raft once. At the most. With captain Kay on the other hand we capsized at basically every rapid. Just so we'd honour the name of the team. So I passed almost all of the rapids, including the most dangerous number seven, swimming among the crocodiles.
Look and shiver (most of the time I'm the one front left):