Read / lees in :
Nederlands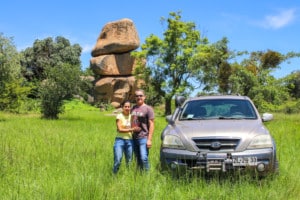 A returning subject on the best travelblog of the planet (until space travel is possible) is the weal and woe of my car. He brings me to all the places I am stupid enough to want to go to, and where other cars fail. And that's because I regularly have, against all my principles, some preventive maintenance done on the car. Or in other words, have something fixed that isn't broken. This time I had bought new bushings in Namibia, just to be sure, and because we had some time to spare everything was about three times cheaper due to the favourable exchange rates on the black market I had them mounted in Harare. The workshop botcher I had selected, as always, on price, to fiddle with my car started to rip apart the suspension on the front of the car with great enthusiasm. But it wasn't the piece of cake he expected because the parts hadn't been straight since that little run in with a rock in Mongolia.
Making the cut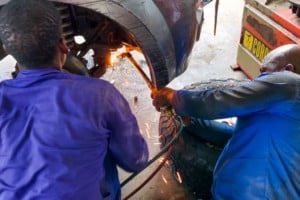 When they pulled out the cutting torch a moment later to disassemble destroy the suspension parts I knew there was no turning back. That was bad news because we would soon find out that the parts I had bought didn't fit my car. Fortunately they're pretty inventive in a country like Zimbabwe where spare parts are hard to come by. Someone was able to cast new bushings to the specifications of my car. Two day and one hundred and fifty dollars later my limousine was 'fixed'. The only thing that still had to be done was a 3D alignment of the wheels. On my way to the alignment superstore I noticed that my car was no longer safe to drive after what they'd done to it. And after the alignement it had gotten worse still! When I arrived back in the hotel I told Lucía that they'd destroyed our friend and that therefor our trip was probably over. Lucía didn't agree, she lifted me up, renewed my confidence, comforted me, and threw me back down.
Manapools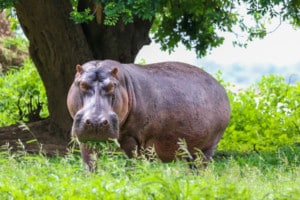 When we drove back to the alignment center together the next day was when Lucía first found out in how bad of a shape the car really was. The alignment guy however fastened some bolts the super botcher had forgotten while I pushed the driveshaft back in it's socket. After that he aligned the wheels correctly and what do you know, the car was actually controllable again. I felt confident enough took my chances that we could at least reach Lusaka in Zambia to have someone there fix the damage that had been done to my car. Just before the border we seized the opportunity to visit the Manapools National Park. But while we were doing a gamedrive in the park the steering rod on the righthand side came loose, because mister botcher had forgotten to tighten that nut too. If that would've happened on the main road, at say eighty km/h, we would've had some serious accident! While I backtracked our path on foot looking for the nut we'd lost I realised I had forgotten my leatherman which I of course needed to survive any wildlife encounter. Fortunately just at that moment a tractor with park rangers passed by. They even had a nut that fitted, so we could at least drive out of the park and the country. So the moral of the story is: 'Don't do any preventive maintenance in Zimbabwe'.