Read / lees in :
Nederlands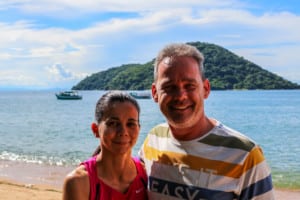 After we had the repairs damage, inflicted on our funmobile by the mechanics in Zimbabwe, fixed in Lusaka/Zambia, and after we fixed ourselves too with hamburgers from Spur, we continued to Malawi. Because we were unsuccessful in securing Lucía a visa for South-Africa in one of their embassies in Namibia, Botswana and Zimbabwe we had to change the route of our African campaign. It now leads us through Malawi, Tanzania, Burundi, Rwanda, Uganda and Ethiopia, after which we will turn to the south again. From April on South-Africa will start issuing visas online. So until then we'll just enjoy ourselves elsewhere. On hindsight this seems to be in our advantage, because otherwise we would've had to figure out how to find our way to the north after the disaster in Mozambique/Malawi/Zimbabwe. When we passed through Malawi a few weeks ago, it was unlike now still boring as hell.
Borderline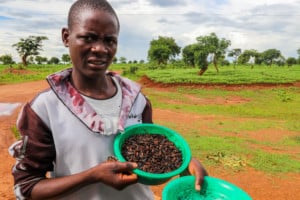 We first traveled through the south part of the country. The most spectacular part of the trip really was the M1 between Lilongwe and Blantyre. A stretch of about sixty kilometers of that road lies exactly on the border. Without police or military, because nothing ever happens there. On the left side of the road the people speak chichewa of English, and on the right side Portuguese. On the left you pay for gas in Kwacha, and on the right in Metical, etc. etc. We seized the opportunity and left the road, with our car and all, and stayed in Mozambique illegally for a moment. The rest of the south was as beautiful as it was boring. We did have a small adventure when the fan belt and one of the rollers it runs over broke in a fairly remote place. But unfortunately that problem was solved quickly and without any excitement.
Diving
Halfway through our Malawi tour we settled down for a few days in Cape Maclear, a national park and beach destination for backpackers on the south side of Lake Malawi. And there too it was boring as hell. It's a sleepy fishing village and when we were there it was the low season for holidays. Since there was a dive school I decided that I might as well go for a day of diving. Perhaps a couple of hippos or crocs could render a tall story or two. In the boat on our way to the dive spot I heard that such excitement was out of the question. Those animals only like waters where you can't see shit. Nevertheless it was a nice experience. It had been countless years since I last dove in fresh water and there were plenty of fish. Usually you only see these so called cichlids in peoples fish tank, but now you can also see them here on this site in the video I shot. Like I said: 'Boring as hell'.