Read / lees in :
Nederlands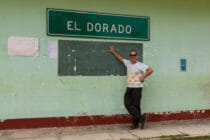 When I started dreaming of traveling as a small boy, the place that captured my imagination the most was the Amazon rainforest in South America. But although I roamed around the continent for the whole first year of my trip somehow I never got around to explore the jungle. Given that South America is also my favourite continent I had more than enough reason to get onboard of a plane. But the attentive viewer already saw that of course, in my Christmas video. For a change I didn't go at haphazard this time but organised the whole trip in advance. First by plane via Fortaleza in Brazil to Manaus. And a connecting flight to Tabatinga, deep in the Amazon on the border with Colombia and Perú. From there I would continue by boat to Iquitos in Perú. But when I entered the little Golfinho office late in the afternoon to pay for my ticket they had no record of my reservation. Fortunately there was just one more seat available for me. After that it was quite stressful to get my passport stamped by the Brazilian immigration before the office would close and cross the river to have the Peruvians do the same. This had to be done because we would leave at 3am.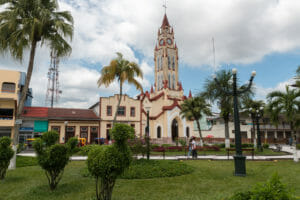 Organised down to the last detail
Before going to bed I ordered a taxi at the reception to bring me to the jetty at night. When it's dark downtown Tabatinga is a very dangerous place. So even if it's just a couple of hundred meters, walking is not an option. That taxi wasn't waiting for me of course, but after a while I was able to flag down a motortaxi. With me and my luggage on the back he slalomed around the armed vigilantes to the pier. We had to be there at 3am, but only at 5am we could finally board the vessel. At least, we could. A small group of other tourist apparently were sold false tickets and thus stayed behind. During the nine hour boat ride, that lasted fifteen hours, I was very pleased when I looked around me. There was at the most one other foreigner aboard, and for me that's a sign I am doing it right. Once when we arrived in Iquitos the hotel where I had a reservation had no idea I was coming. But here too I could get the desired room. I could then only hope that my reservation for a ayahuasca retreat in the jungle had come through. That one was, contrary to the hotel and the boat, already paid for, and I had no idea where that retreat was located. Boy oh boy, the stress you have to deal with if you organise everything beforehand. Next time I'll be winging it again!