Read / lees in :
Nederlands
Because our flight from Namibia to Malaysia was with Qatar Airways we had to switch planes in Doha. So I had demanded from Lucía that we would stay there a couple of days on our way back. Because if you don't like football there's no way you'll ever go there. Things started out brilliantly for us right after we arrived, we found out the hard way that the hotel we booked had closed six months prior. After having been on hold with the Agoda helpline for a mere hour they organised another hotel for us. An upgrade even, because this one had breakfast included and served free beer and snacks coffee and pastries from six to eight every evening. While we visited the Al Koot fortress on foot that night we decided to rent a car the next day. Qatar is not that big, and we only had four days anyway, so we'd be able to zip by all the attractions fast and cheap. The next morning we picked up the car and drove through the whole part of the country north of Doha. Although it wasn't a 4×4 we still took it into the desert north of Dukhan at the end of the day to see a bizar work of art by Richard Serra. Fortunately we managed to do that without causing any visible damage to the car.
Camelrace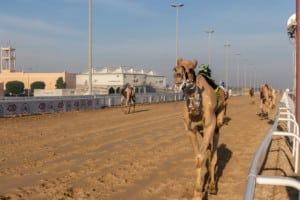 A day later we wanted to watch a live camel race. We were in luck because one was being organised, it's just a pain in the ass that they start incredibly early. At 7am. to be precise, and it was a staggering forty five minute commute from our hotel. When we arrived I was shocked to see that they had already started without us. But fortunately there were a lot more races that day. Despite the entrance being free of charge I noticed that there were no other spectators around. We soon found out that's because the camels run on an eight kilometer long track. So when you're at the side of the track you can only see them start and finish for a brief moment. Fans therefore watch the live feed from the camera car from the comfort of their own home. Behind it the owners of the camels follow. So it was imperative that we'd get ourselves into one of those cars. Luckily I found Abdullah willing to give us an insider perspective of this world. He owns a couple of hundred camels, of which about forty are racing camels. While he tried to keep up with the camels he cheered his one on using a walky-talky. That's possible because the camels are equipped with 'robots' that have a speaker and a remotely controlled whip. The robots replace the jockeys, because the boys they used to import to do that job had fatal accidents every now and then. So that became too expensive after a while.
What a surprise
In short, our day couldn't have started any better and on top of that we still made it back to the hotel on time for breakfast. On our last day in the little oil-state we switched our little rental car for a Mitsubishi Pajero(=Spanish for wanker) so we could, before getting on our plane, pay a visit to the Khawr al Udayd desert in the south. Although the rental company explicitly forbad me to off-road. Which in hindsight I can totally understand because the car's name couldn't be more appropriate. What a wanker. If you drive it through water just a little bit it stalls. After four days we had done and seen it all, and we were at the point where we'd kill for a beer. So after I got the Pajero going again we returned to Namibia, thirsty but pleased. That would soon change. A week or two after we had returned the Qatarese had a surprise for me in store. Apparently I had used the wrong lane when I took a left turn at some point. And although an Ed is very fast, he's not so fast that the Qatarese fine machine can't catch up with him. And that really hurt my wallet, because fines in Qatar are no joke. It resulted in a six thousand Qatarese Rial ticket, that's well over sixteen hundred US$! Nevertheless I still prefer to travel by car. But in my own, that is not afraid of water, has untraceable license plates and doesn't care if I add another scratch or two.