Read / lees in :
Nederlands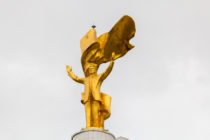 As I mentioned briefly in the first part of this diptych about Turkmenistan, this country too has a totalitarian regime. Just like all neighbouring countries. Here the first presidictator, Saparmurat Niyazov, dedicated himself primarily to torture controlling the press his life's work: the capital Ashgabat. After you've past through the gate to hell you'll find yourself in the white city, as it is nicknamed (I know, it sounds just like one of Tolkien's books). Because of his preference for white (marble) and gold he used an enormous amount of petrodollars to rebuild the city by filling it with white/golden buildings and monuments. These are alternated by parks the size of the Netherlands and everything is connected by boulevards a kilometer wide. As icing on the cake he erected golden statues and busts of himself all around town. Fortunately you'll find those in every city around Turkmenistan and not just here.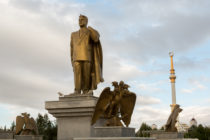 The new part of Ashgabat that he built is so capacious that we traveled over 100 kilometers in our car just visiting the various monuments. Although I have to admit that it all is indeed very beautiful, it feels like a ghost town. It's all very plastic and stylised, but supposedly only a few people can afford the new apartments. Therefore you'll see hardly any people or cars, with the exception of the army of maintenance staff that keeps everything in an impeccable state. The buses pass by empty and you've got the parks all to yourself. The ferris wheel was even cranked up especially for us.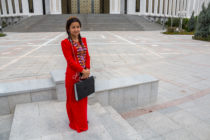 The new presidictator, Gurbanguly Berdimuhamedow, continued on the same path, merrily building up the white city. While we were there for example, construction of the immense infrastructure for the Asian Indoor Olympic Games of 2017 was in full swing. Gurbanguly, by the way, is just like supersultan a man of all trades. Or, at least, that's what we got from the television shows on the three government channels. Every day we saw him on the telly, usually denim clad from head to toe, while he walked on a construction site or in a factory. Always followed by four or five men in suits passionately jotting down his orders, advice and instructions. Too bad there are no golden statues of him anywhere. But then again, he's as modest as he is intelligent.