Read / lees in :
Nederlands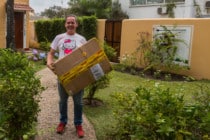 So I flew back from São Tomé to Libreville in Gabon without a working credit card. By the way it wasn't the first time my card had been copied. Therefore I know like no one else that an empty wallet is the heaviest piece of luggage you can have with you. On top of that they can only send new cards to the address where your bed sleeps. And like the title of this site suggests I was rather far away from there. Fortunately my parents where willing, just like the last time when I had this problem while in Fiji, to prepare a parcel with essentials like drop (Dutch candy) and the new card, and ship it my way using DHL. I asked them to send the box to Pointe Noire in the Republic of the Congo, better known as Congo Brazzaville. I couldn't stay in Libreville to wait for it because I had to consider the validity of the various expensive and hard to get visas in my passport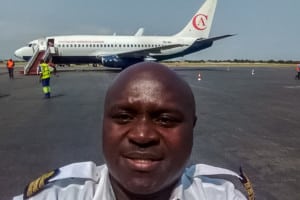 Faster than flying
Up to the border with Congo Brazzaville the roads were sealed, but from Ndendé onward it was once again a boneshaking experience. Just past the border I picked up Serge who was hitchhiking because he lost his plane, or something like that. My new travel buddy was scared to death the whole way to Dolisie whenever I accelerated, totally irresponsibly, right through a big cloud of dust thrown up by the lorry I was passing at that moment. Well, he should've flown. He ain't a purser with Canadian Airways Congo for nothing. Against all odds we arrived without a scratch in Dolisie, where I wanted to seize the opportunity to score the Angolan visa. But when I first got sent from pillar to post there, and later in the consulate in Pointe Noire too, I found out that you can just order a visa the good old fashioned way on the internet. DHLs track&trace showed a couple of days later that my package had found its way to Pointe Noire as well. Now it was only a matter of getting my hands on it before I could continue.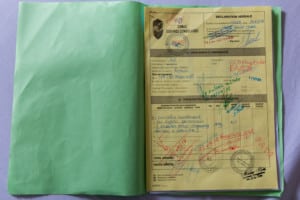 From pillar to post
Instead of delivering the shipment to my hotel I was summoned to the DHL office. There they told me that it was going to take one hundred and sixty euros to clear customs. While the reported value of the parcel was just under one hundred and twenty euros. That was a bit to much for me to take seriously. So I said I'd go and retrieve the shipment from the customs office myself. Apart from advising strongly against that they also charged me twenty five euros for the bill of laden I needed! The rest of the day I walked countless times from pillar to post collecting an impressive number of stamps and signatures. Every stamper asked me around fifteen euros to do his job. But too bad for them, that never flew. One of the officials determined, using a government list, that the import taxes had to be about forty euros. In the end, with only two more desks to pass, I had to pay that. But when they gave me a last minute discount of over thirty percent, I knew there was something fishy about it all. Two signatures and stamps later I could then finally collect my parcel from the depot, in principle. But alas, meanwhile it was three o'clock, so everybody there already left. The next morning I finally got my hands on the box. And I could had to take all documents with me too, because they had no further use for them. They didn't even keep so much as a copy. So, in short, they had me going from pillar to post all day long just to make the whole process, that has been designed to line everybody's pockets, look legit. TIA!