Read / lees in :
Nederlands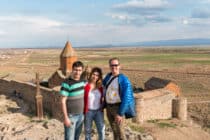 Talking about a shot in my own foot. I never should've written so positive about Georgia, the Georgians and Tbilisi, and especially not about the fact that in my opinion it's so damn cheap there. Because if the government thinks you've saved some money they'll think of a way to shake you down. Don't think that they only do that back home. When I entered the country from Azerbaijan they gave me, just like everybody else, a 360 day visa. So you'd think your wheels can stay with you during that time. Wrong, your car can only stay 90 days, and they'll let you in on that rule at the exit. In my case at the border crossing Georgia-Armenia at Bagratashen/Sadakhlo. Long story short, this gets you a 50 Lari fine (± 20USD) per day. With a maximum of 1000 Lari, that's the plus side. So, roughly 400 USD lighter and really fucking agitated I drove over the bridge into Armenia.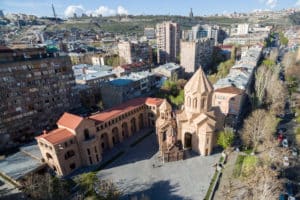 Stamping my passport and getting the import declaration for my bolide was an amazingly quick and easy process. So you know you have to be on your guard. I did have to pay about 40 dollars in taxes however, road tax they said. I was handed the paperwork and wished a pleasant journey. Now you have to hope for the best because the Armenian alphabet is harder to read than Chinese. But as you can see they do write dates like normal people, so fortunately I was able to detect that I had only paid for two weeks. My intention was to stay longer so I asked if I could pay for a longer period. That was not possible according to them, and they assured me that it was: 'No problem'. Upon exiting the country I could just pay the difference. Yeah right, like I was born yesterday.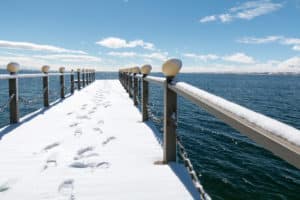 That you need a third-party insurance is another thing they won't mention, but as soon as you leave the compound there's a shipping container to your left in which a guy sells insurance and SIM cards. For the moment at least I had the most important things organised for me to continue my trip to the capital Yerevan. I was driving on the M16, according to Hayk, my AirBnB host, an excellent route. The British government begs to differ because of artillery fire from Azerbaijan, but who cares. After all, the pavement survived the shelling quite reasonably, and that's what matters. After a few days I called Hayk again to ask him if he'd be willing to help me get an extension on the road tax stuff.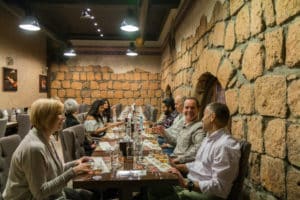 Luckily he was happy to help me out, because on my own I would've never succeeded. First we had to go to an office of the Revenue Service, where nobody speaks English, where a couple of forms had to be filled out in Armenian. A day later they let him know over the phone that my application had been approved. We had to pick it up and take it to another office on the outskirts of the city. In that office, that is extremely difficult to find (turn left at the strip club), we ran around going from counter to counter. Of course there was nobody around with knowledge of the English language there either. But I had a Hayk and he managed to get it done in the end. For a mere 40 dollars I got a 30 day extension. They told me that if we hadn't jumped through all the hoops, I would've been fined big time at the border. Again. Through trial and error and after only 6 years I'm finally getting the hang of this shit.