The worlds most dangerous roads
Read / lees in :
Nederlands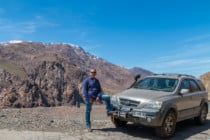 A whil ago I saw a program on Dutch television called 'de gevaarlijkste wegen van de wereld' (the worlds most dangerous roads). In this episode a rapper nicknamed Lange Frans (Long Francis) road Sigrid ten Napel a dangerous road in Morocco, at the taxpayers expense. It all looked pretty exciting, so I downloaded their route (check here, or download the KML file) and started driving. After all, I do like challenging drives. And although my long francis had to survive the trip without Sigrid Lucía, I was thrilled to go. Imagine how disappointed I was when I found out that there is nothing dangerous about this route. It's just an ordinary road with first class asphalt, where tourists are being shuttled over back and forth in five star coaches. And pensioners in their mobile homes cruise on while sipping on their coffee. The 'spectacular' images (where you see Lange Frans for example push the car out of the sand, which would be hopeless if true) were shot a mere ten meters away from the perfectly smooth road. Just zoom in on the satellite version of the map.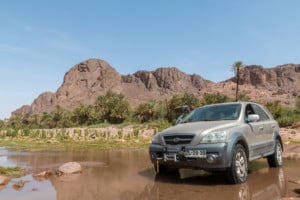 Fake news
Incredibly #fakenews! Besides that the whole trip took no less than five days according to the show. Well, believe me, it can be done without any stress in two days. Three days tops if you want to stop now and again to take some pictures, visit the Atlas film studios and more of that touristy stuff. I do get why they were chuckling and being secretive in the car all the time. On twitter people thought it was because they had done 'it'. I think they just had trouble keeping a straight face as they realised they were hoaxing the whole thing in this episode of 'the worlds most dangerous roads'.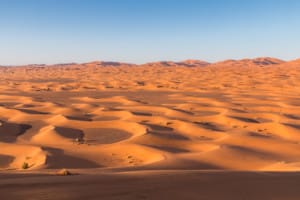 The wild east
And I don't understand, it wouldn't have been necessary to con the viewers. Because the route was so sleep inducing I added a big loop to the east. By doing so I came through the Dadès Gorge for instance. Where the part from Boumalne Dadès to Agoudal was the most adventurous part. That stretch could be called a dangerous road, if you'd like. A two way unpaved road, barely one car wide, high up in the mountains. After that I continued further east where I visited Merzouga (that's tarmac all the way though). Over there you'll find huge sand dunes, and various companies organise tours on which you drive quads or buggies over those enormous heaps of sand. Wow, that was one of the most exciting, spectacular and fun things I've done for a while. Fortunately we don't have to send expensive scared famous people at the taxpayers expense there to see what that's like. There are loads of free videos on Youtube.
PS: I also viewed the episode about the Pamir Highway, after all that's a road I know too. That show fortunately is a real impression of what that route is like. Without staged 'dangerous' situations.