The Pamir Highway, easy peasy
Read / lees in :
Nederlands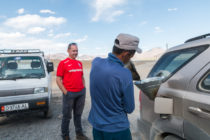 From 1931 to 1934 the Russians were busy with asphalting that part of the famous silk road that crosses Uzbekistan, Tajikistan and Kyrgystan, the Pamir Highway. Ever since, according to the state of the pavement, no work has been done on de road. Thus the term 'highway' mostly refers to the elevation above sea level of this famous route. Because of the high altitude we even found ourselves driving through snow midsummer when we passed the world's highest border crossing at 4280 meters high. Nonetheless things were not so bad as we expected. Therefore, when after just two days driving from Sary Mogol we had already reached Khorong, halfway on our route to Dushanbe, we decided to go back about 180 km to take the turnoff from the Pamir Highway to the Wakhan Valley. We could only hope that the terrain there would be difficult as hell. Why else had we prepared for the worst by loading our car with water, rations and our camping equipment. On top of that we had a moonlighter prepare our wheels technically  for world war III. You just never know.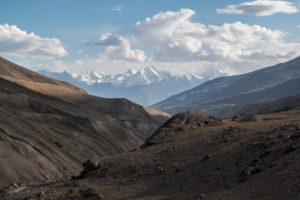 The Wakhan Valley
Since the Panj river, that flows through the Wakhan Valley, at the same time serves as the border with Afghanistan we also hoped, of course, to find some pure heroin Taliban so we could let the 4×4 function of our vehicle have a good go at them. Unfortunately we were shit out of luck.
But it was indeed a beautiful drive along the river/border on a trail chiseled out of the mountain slope with a magnificent view of Afghanistan and the Hindu Kush mountain range all along the way. While driving we noticed that the people in Tajikistan are not particularly wealthy, but on the other side of the river (with what looked like an even cooler=more challenging road) money doesn't seem to come out of the tap either. That could of course be because these kind of huts lack a tap altogether.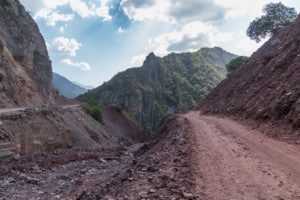 Domestiques
Anyway, like I said the trip wasn't by far as difficult as we expected hoped, so we hardly ever needed to dig into our survival kit. This was great news for the many fanatics on bikes, for whom the Pamir Highway is a wet dream. Because it was sweltering hot all week, the route was a lot harder than they expected and most of the time no wateroutlet in sight. Personally I never thought that one day we'd serve as domestiques in the tour de Tajikistan. So, in short, once again we had a week full of surprises.