Living in clover (in Georgia)
Read / lees in :
Nederlands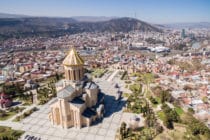 The first province in which you arrive when you drive into the country from Azerbaijan is Kakheti. A region that is often compared to Tuscany. Because of it's many churches, and for me personally, it's viniculture. I never knew, but they have been making wine here for thousands of years. 'If so, they are probably very good at it', I thought. And I couldn't have been more right. For just a few bucks you can find out yourself how good by participating in wine tasting everywhere. And while you have to get a second mortgage back home, to buy a glass of wine in a restaurant, you can get a good bottle for the same price overhere. The same pleasant pricing policy is applied to basically everything.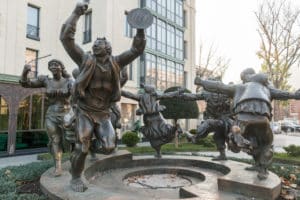 For instance to park my car in Tbilisi, the capital, in the streets I had to pay the equivalent of about 10 euros. For a 6 month permit that is. Because of that I decided, for the first time in years, to renew my wardrobe while I was here. And I can be brief about that, it's best to travel to Georgia with an empty suitcase. Shop till you drop for a 100 bucks. So you can understand why I spent so much time in the country already. You literally live in clover in Georgia. That's especially true if you're Dutch. Just read the story of Jesper. There you have it, something other countries can learn from.