Read / lees in :
Nederlands
After the failed gorilla expedition in Gabon it was high time for a new mishap. Therefore I flew from Libreville to São Tomé and Principe. A tropical island state, and former Portuguese colony, off the West-African coast. A destination that, in principle, should be ideal for a careless week of holidaying. Which I desperately needed to recover from the visa hunting, the bad roads, the annoying police, the armed conflicts and the mediocre food. Or in short, West-Africa. Because my car couldn't come with me I rented a Suzuki Jimny, in order to be able to explore the one hundred and fifteen kilometers of Korean asphalt on the São Tomé island. It might not be a KIA Sorento, but in principle it should do the trick given the short distances. At the airport someone was waiting for me with the dented and scratched car. According to him, in principle, I wouldn't have to worry about any new dents or scratches when I'd return the car. If only they had that attitude everywhere!
Plastic fantastic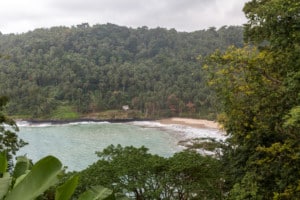 The car had been paid for online when I rented it, but before I pulled out of the airport I wanted to get some cash from an ATM anyway. Unfortunately, the rental guy told me that São Tomé, and Principe too, had been successfully disconnected from the international banking systems. So you can't pull cash from an ATM or pay with your credit card anywhere on the islands. On hindsight that was a good thing. Because two days after I arrived my credit card company sent me an email stating that I had no more money one of those friendly africans I'd met underway had copied my card, and went on a shopping spree in dark China. Which eventually made them decide to block my card. Without money or working plastic I set out to find a hotel that would accommodate me anyway. I made my way with an engine that stopped and started intermittently, because the fuel on the island is some kind of enhanced paint stripper with pieces of brown coal in it. Just short of being as bad as the gas in Mauritania. In principle.
All's well that ends well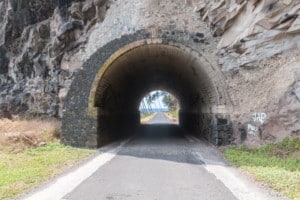 Pretty soon I found the São Pedro Guesthouse, that had some overdue maintenance (on it's website), ran by a Portuguese national. He knew somebody in Portugal who I could wire some real money, which he would then give back to me in beads Santomese Dobra. With my pockets filled with cash I went on my way to explore the island the next day. Right away I met the only two other tourists on the island. And of course they were Dutch. They were about to start a trek to the Amelia Lagoon. A volcanic crater filled with water and on top of that a layer of spongy grass on which you can walk, although in principle that's not allowed. But I was with Dutch people, and they never give a fuck about anything. The rest of the week I visited the rest of the island, with its fishing villages, coffee and cacao plantations and remnants of the colonial era, all by myself. But tropical beaches with comfy sun beds, cocktails, banana rides and hot chicks Bob Marley music were nowhere to be found. I was however able to go diving one day, they make pretty decent hamburgers and I could relax at the pool of my hotel. So all in all my holiday was a big success, in principle. At the end of the week I felt I was up for the task ahead. Fortunately, because without a credit card the rest of my trip probably wasn't going to be easy.